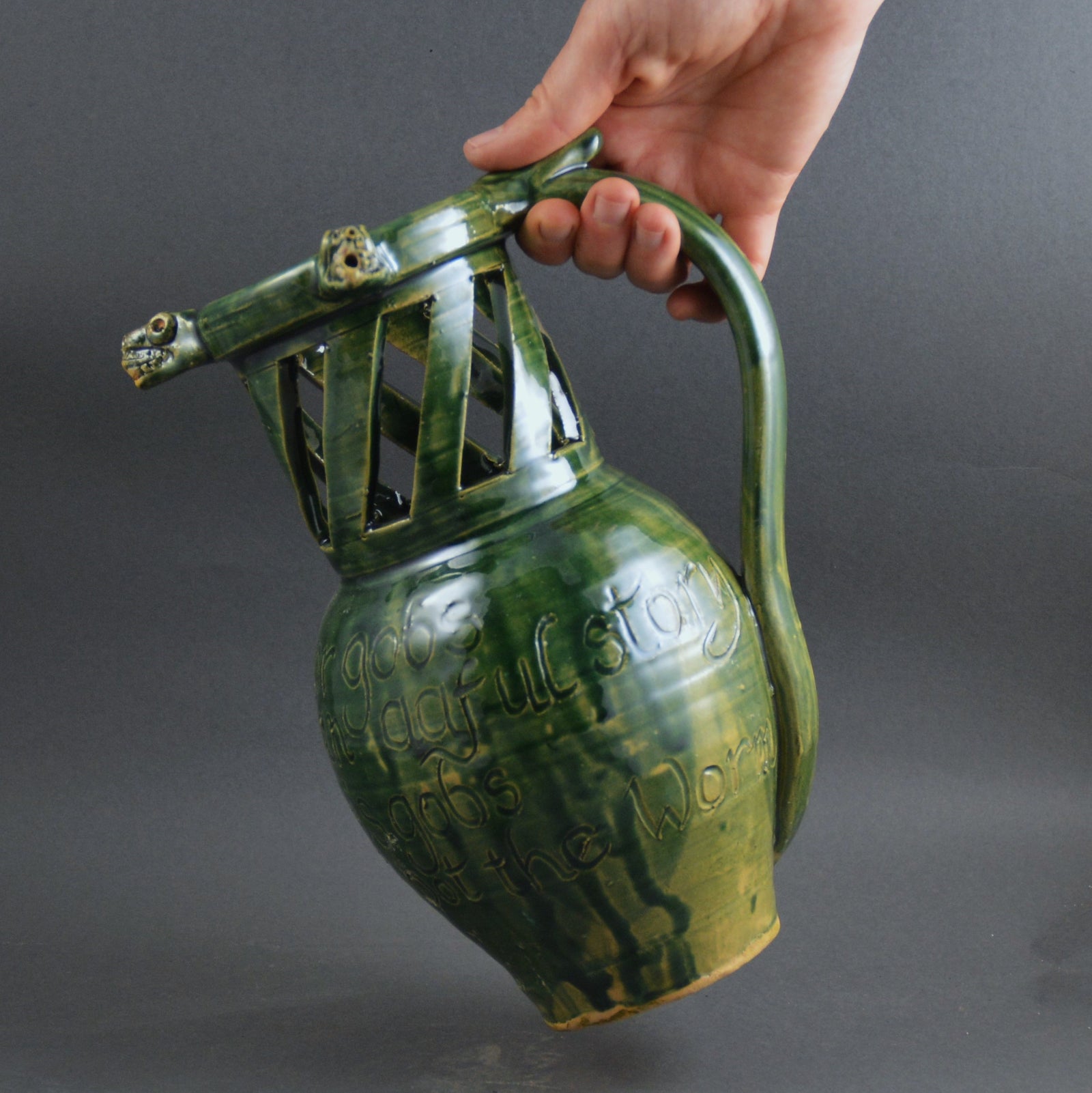 As a maker, it always feels like a privilege that someone wants to have something that you made in their home and often prominently displayed within their home. They have chosen this object to display to the world, to represent their design aesthetic and tell the world about who they are. It is a tremendous honour. 
So it gave us immense pleasure to discover that fellow artist, the talented illustrator Fee Greening singled out one of Graham's gorgeous Medieval puzzle jugs for a special mention in an interview with the Financial Times, saying, "The last thing I bought and loved was a puzzle jug from a company called Potted History."
To add to this honour, Fee mentioned us within an illustrious lineup of talented artists, designers, writers and musicians. We have a few more titles added to our reading list and several items on our wish list thanks to Fee 😁
The article has also strengthened our resolve to add to our Medieval collection. We adore Medieval pottery with its glorious green glazes and quirky, sometimes risque, figures that hang off the sides of medieval jugs, jars and mugs as if ready to join the party, and by the looks of it, a very raucous party.  
And, of course, a Medieval collection is only complete with an aquamanile (from the Latin aqua meaning water and manus meaning hand). Originally made in the Islamic world, aquamanilia were vessels in the form of animals or humans designed to pour water for washing your hands during religious rituals in the Medieval world. These fabulous objects were popular from the twelfth through the fifteenth century when thousands were made and used throughout the Medieval world.
Whilst the finest examples were made of metal, often copper, those of more humble means would opt for a ceramic version, and this is where the magic really happened. Having seen elaborate and intricate metal versions, the potters of Europe clearly thought, "Yeah, I can do that!" and began producing ceramic Aquamanile that lacked the finesse of their metal counterparts but made up for this by creating objects oozing personality and a comic charm. Aquamanilia made in the form of fierce lions, fiery dragons, knights on horseback and charging unicorns were all likely to have a knock-off doppelganger made. Sadly, the fragile nature of the ceramic versions means that few of them have survived, which means that the cheap copy has become a priceless rarity.   
So watch this space for more Medieval amazingness! 
You can read the full Financial Times article featuring Fee Greening here.
And if you are curious to know how medieval pottery was made, then let Graham explain in this video made in collaboration with Hull and East Riding Museums.  Watch it here. 
 Phyllis riding Aristotle, inspired by a metal aquamanile from the MET museum of art
---
1 comment
---
---