You can't have this cup! But let me explain why.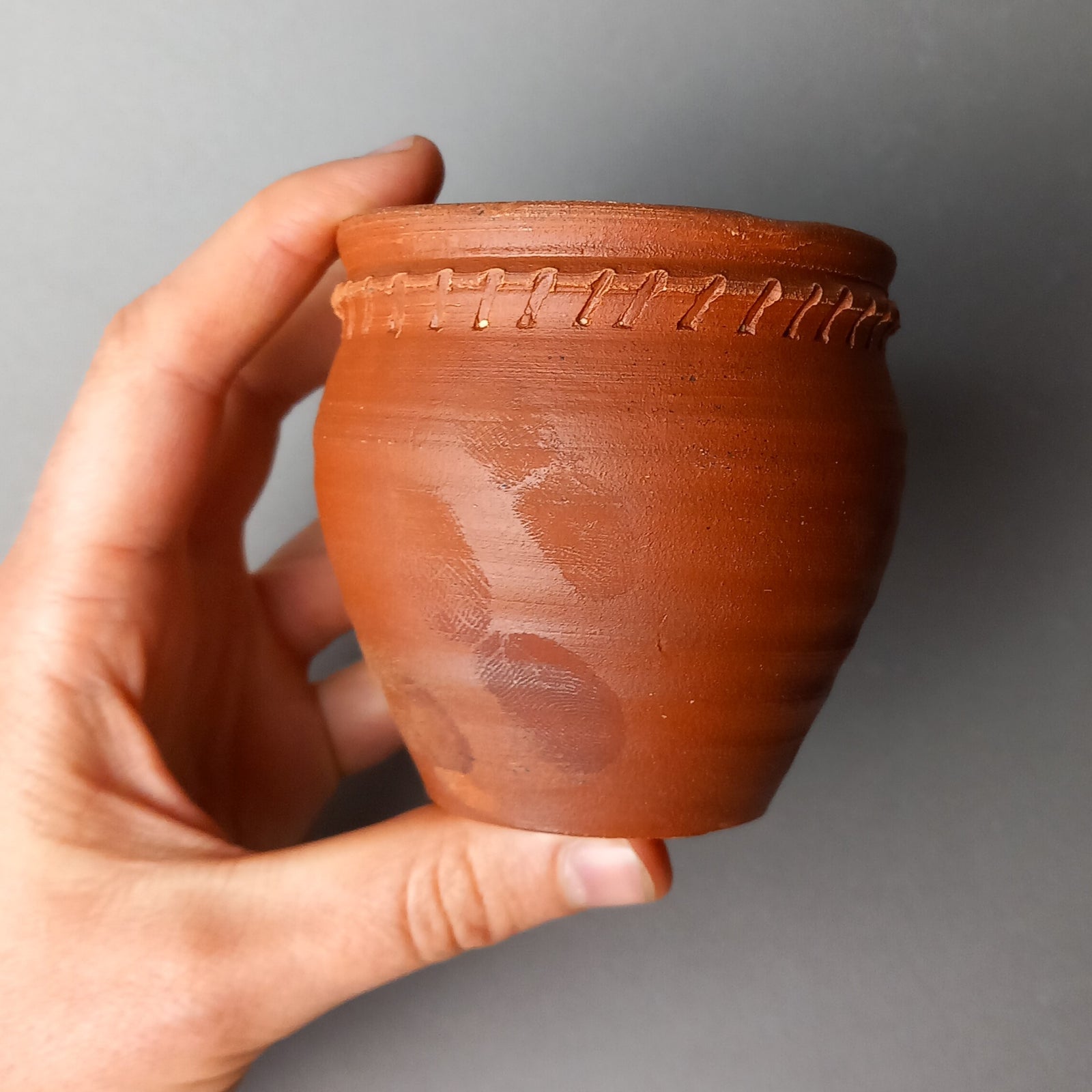 At the end of 2022, we were immensely excited when we were asked to make an exceptional cup for the BBC 2 series Detectorists. As super fans of the show, this was a dream, particularly as the show's premise has the characters predominantly finding shiny metal things; we never imagined that a pot would make the grade.

So requirements were negotiated and samples made. The production team wanted a hand-made vessel, something humble that would bare the marks of the maker, so we created a cup made in a light buff and then dipped it in a red slip to finish. This technique means that any fingerprints or marks will show up; it ensures the vessel looks like pottery made in Roman-occupied Jerusalem around 33 CE. We understood the assignment and got the go-ahead from Mackenzie Crook, so production began. The pots were made, fired and sent off. Then we waited quietly for the show to air, and it was just as brilliant as previous episodes. With the bonus of seeing our little cups on screen (I might have squealed and done a little happy dance)

Then after the show ended, we learnt that we are, of course, not the only fans of the show. In fact, the fans soon cottoned onto the fact that they could own a cup themselves, and the orders started to roll in. Production began again, and over the next few months, many a cup was made and sent out, including this beauty.

However, on arrival, this poor little vessel was rejected due to the fingerprints visible on the surface. Now this concept confused us in the workshop because, within archaeology, an ancient fingerprint is gold (some might even say the Holy Grail) of finds. A fingerprint is a direct connection with the original maker and a connection that can last tens of thousands of years; it is a moment in time preserved. But of course, we replaced this cup with one that had less prominent fingerprints; we couldn't send one with no fingerprints because that is not how the making process works. We were more than happy to replace it because we know that we all have different tastes, which keeps life interesting.


But on getting this cup back, I decided that it might not be everyone's cup of tea (pun intended), but to me, this is the most precious of all the grails that we have sent out because Graham's fingerprints are so prominent. There is no way anyone can hold this cup without seeing those prints and connecting with its maker. This cup is going to be a family heirloom, something that I cherish but that will ultimately be passed down to my son, who absolutely adores his grandad. Through this cup, he will be able to maintain that connection with his grandad for a lifetime and maybe pass it on to someone else someday.

We can't guarantee that this cup will provide you with everlasting life. But we can say that pottery can keep a fragment of a story alive for tens of thousands of years, and I think that is extraordinarily cool.
---
1 comment
---
---