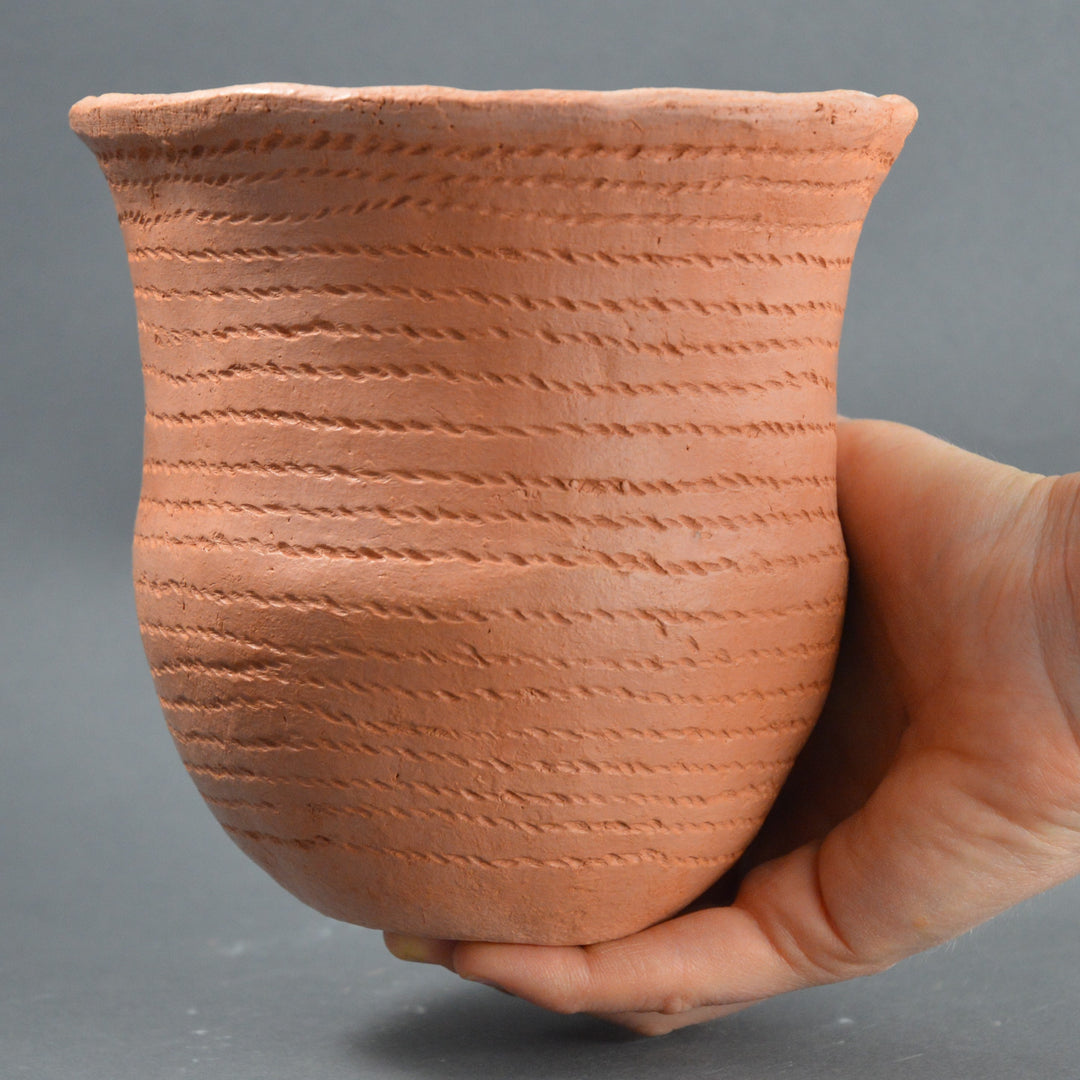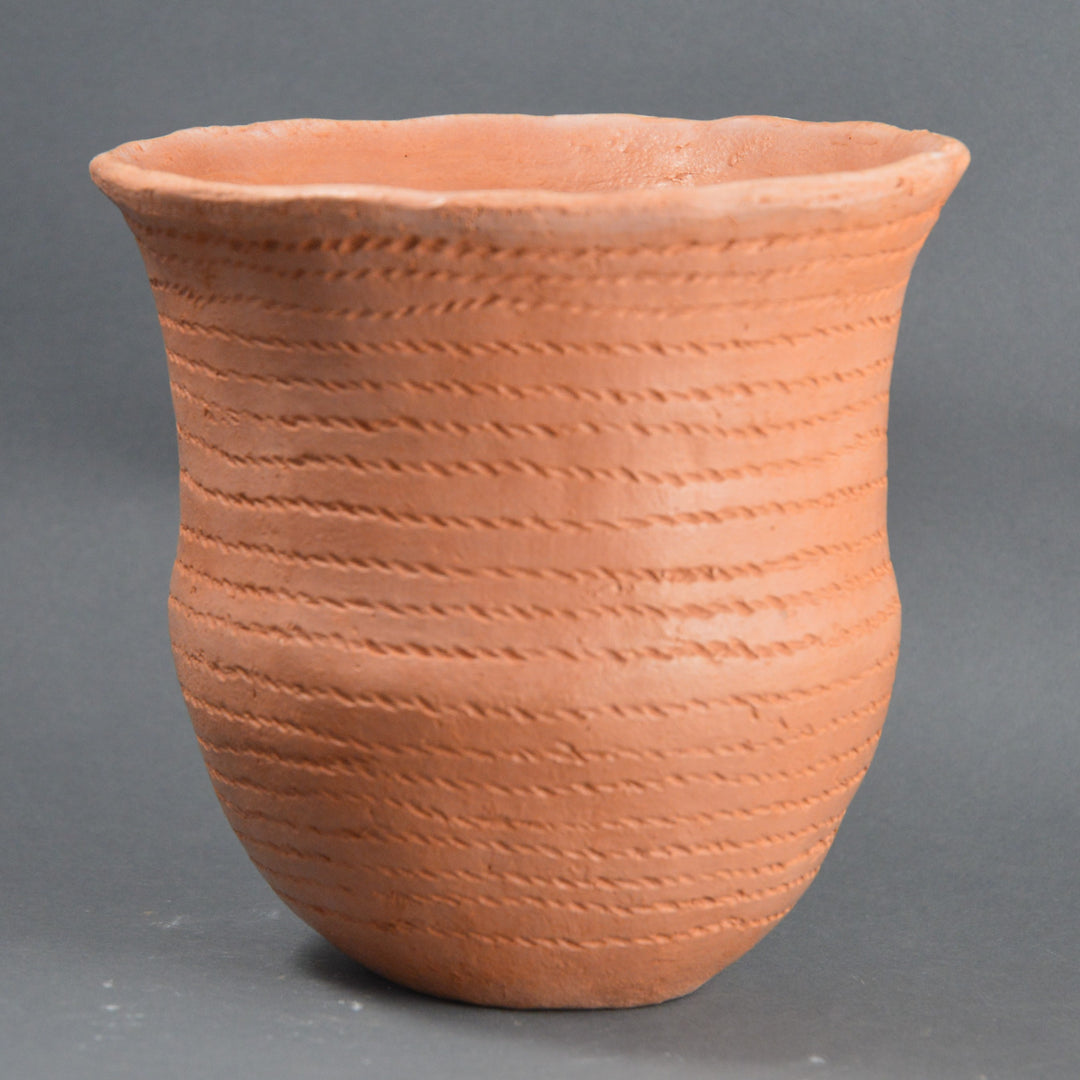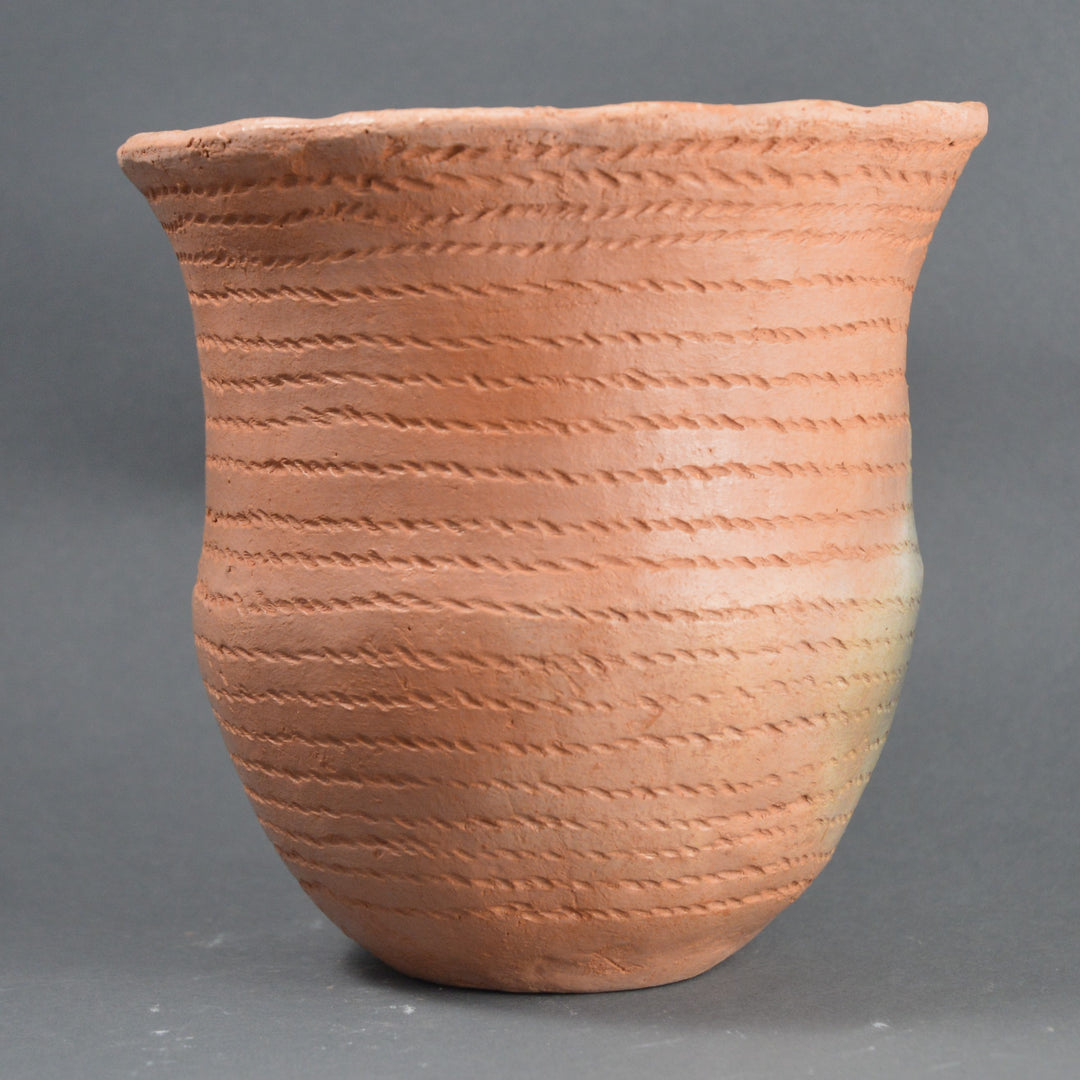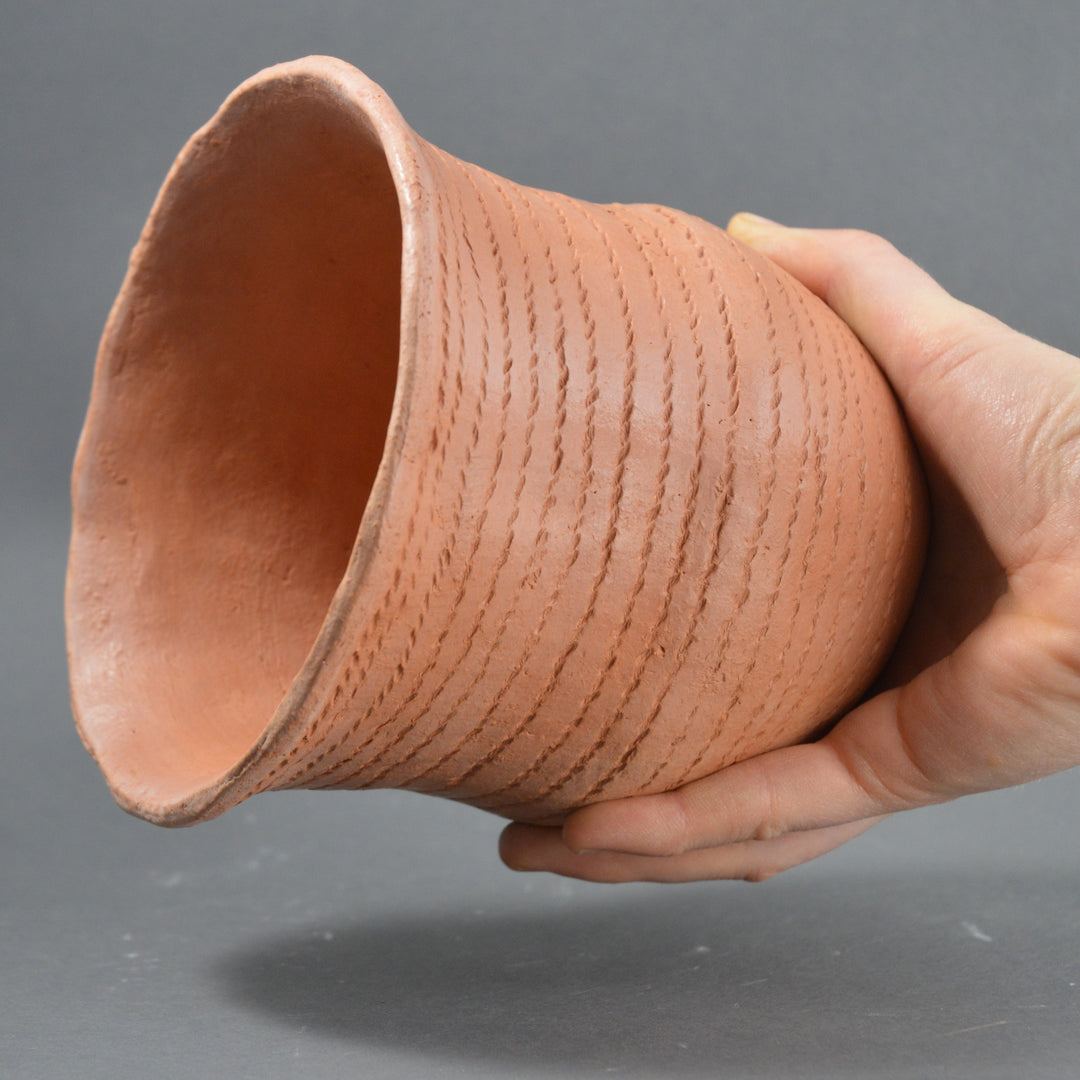 Bronze Age Beaker, Cord Decorated
---
In stock, ready to ship

Inventory on the way
*Tax inclusions only apply to UK orders. Local taxes might be applied on receipt of international orders.
Details
Around 2500 BC Britain saw the first use of metal in the form of Gold and Copper, and alongside these new materials came pottery beakers. Often considered to mark the end of the Neolithic and the beginning of the Bronze Age, it was a time of great change, with some research studies claiming that a vast proportion of Britons were replaced by a wave of migrants from Europe. In terms of pottery this change resulted in a bloom of creativity where potters showed off their skills by creating highly decorated pottery forms.  
This replica early Bronze Age beaker is an example of an all over comb decorated beaker, and,  is based on examples excavated in the vicinity of Stonehenge.  Most notably the grave of the Boscome Bowmen and that of the Amesbury Archer.
Materials
Smoke fired Terracotta
Dimensions
Height 150 mm, diameter 145 mm
Firing
It has been fired to emulate the ancient firing conditions. The original pot would have been fired in an open wood fire, in close contact with the fuel, a process that leaves its mark on the clay as variations in the surface colour. However the very low temperatures achieved in open firings, also results in pots that are relatively weak, so this pot has been fired to a somewhat higher temperature to strengthen it, in a special firing process that allows me to achieve an authentic appearance to the pot.
Production
As with all my Museum Quality Replicas this pot has been made, as the original would have been,  entirely by hand from natural clay and using replicas of the types of tool that the Bronze-Age makers would have used.  In keeping with the original pot, the decoration has been applied using hand twisted cord made from natural bark fibres, in this case Lime Bark Bast.
Health & Safety
This is a Museum Quality Replica and is not intended for use as a drinking vessel, if you require replica pots for actual use with food of beverages, please ask before purchasing.

Postage

All items are sent using a second class postal service, if you wish to have an item sent first class please contact my for a quote. Many Thanks
SHIPPING
We ship our fabulous replicas worldwide.
Shipping costs are worked out during checkout. They are based on where you are and how heavy your parcel is.
All UK items are sent using a second-class postal service.
All International items are sent using an international tracked service. Your tracking number will be sent to you via email.
If you wish to have an item sent via another service or have not received your tracking number, please get in touch with us.
Many Thanks

RETURNS
If you aren't completely satisfied with your Potted History piece, please get in touch to organise a return. Please email us at: clare@rothburycreates.co.uk.
Then you can return it in an unused condition within 30 days, and we'll refund you for the item. We don't try to baffle you with nonsense terms and conditions. Including your order number with the returned package will speed things up. Please leave any packaging intact.
Our returns address is:
Potted History, Gregory Court, Rothbury, Northumberland, NE65 7SW