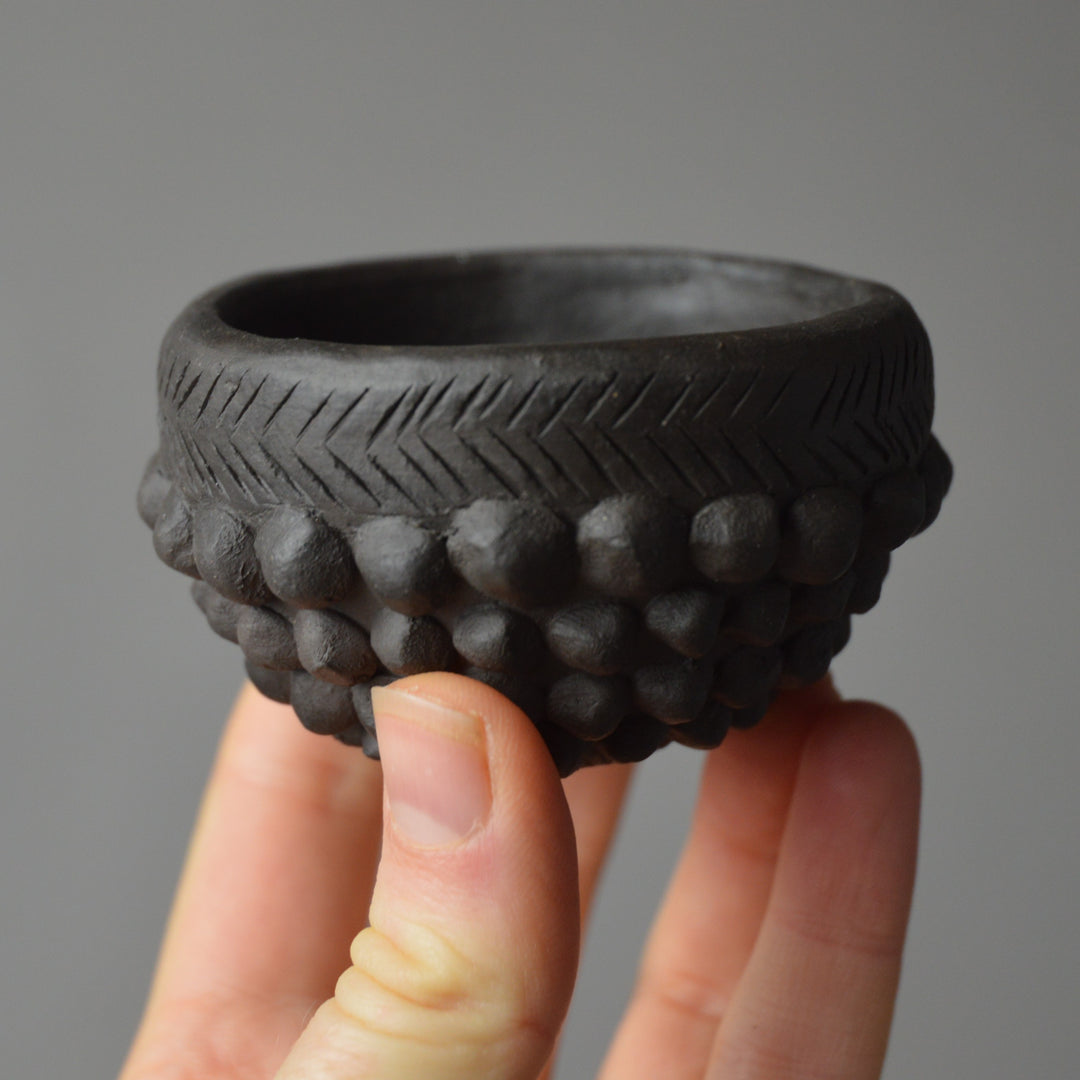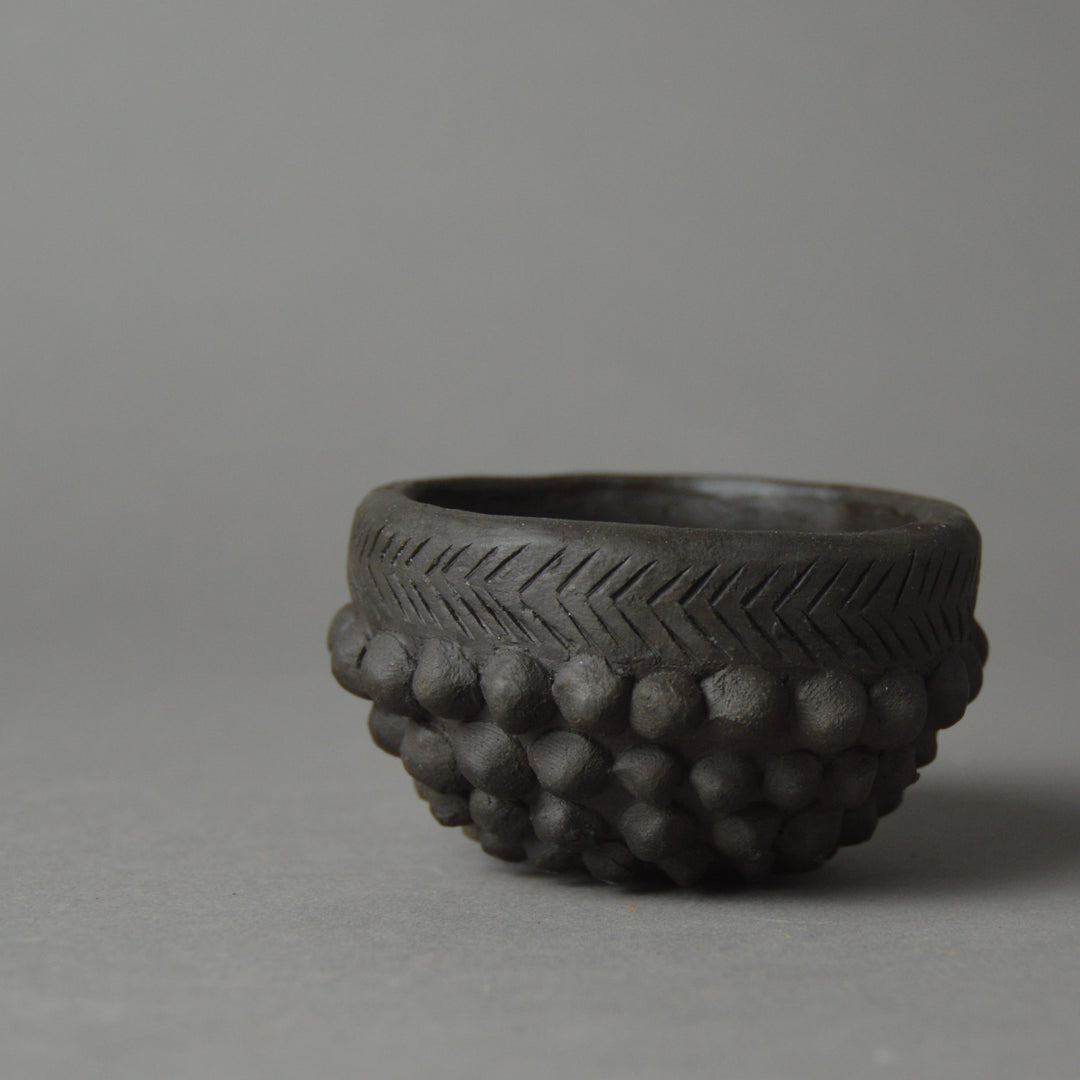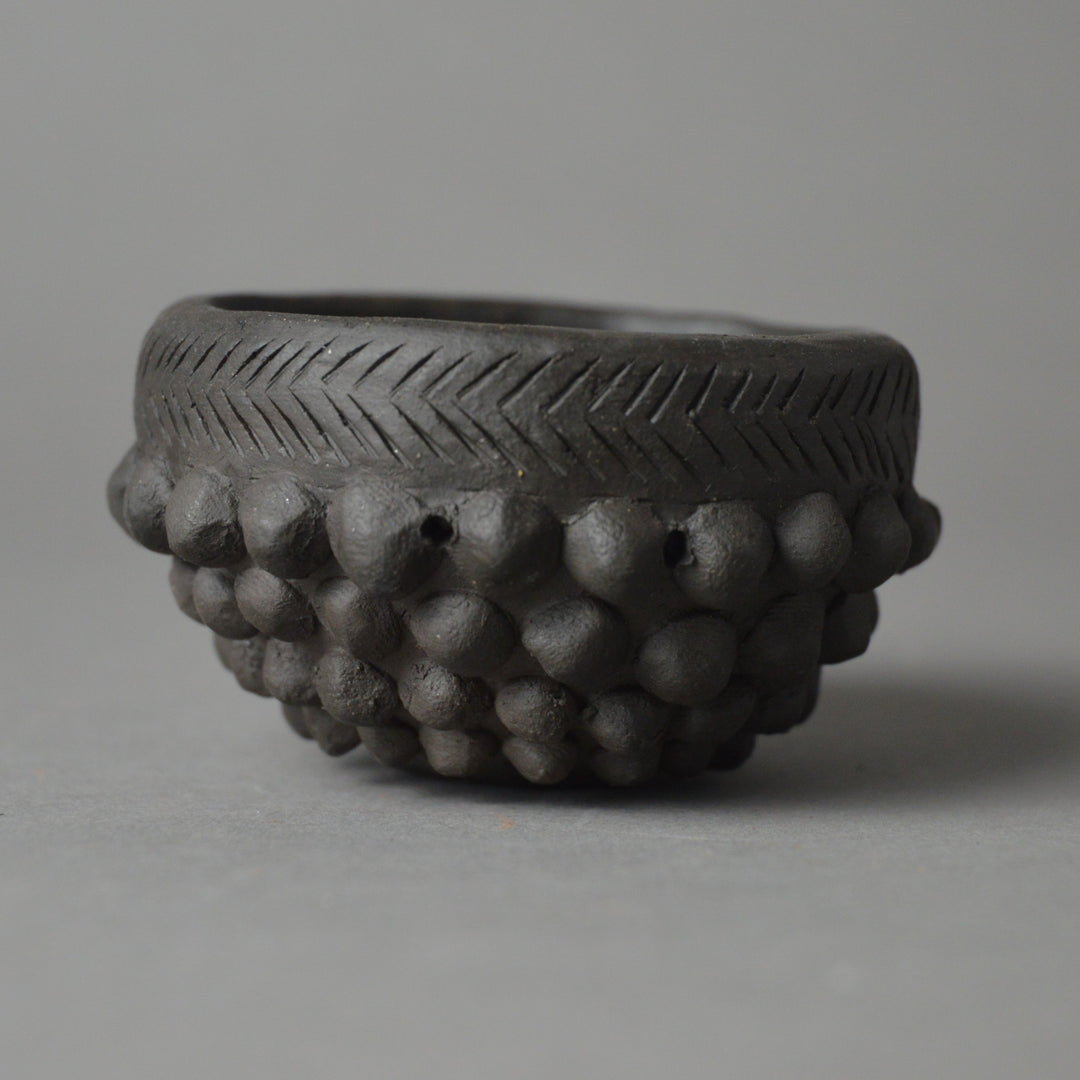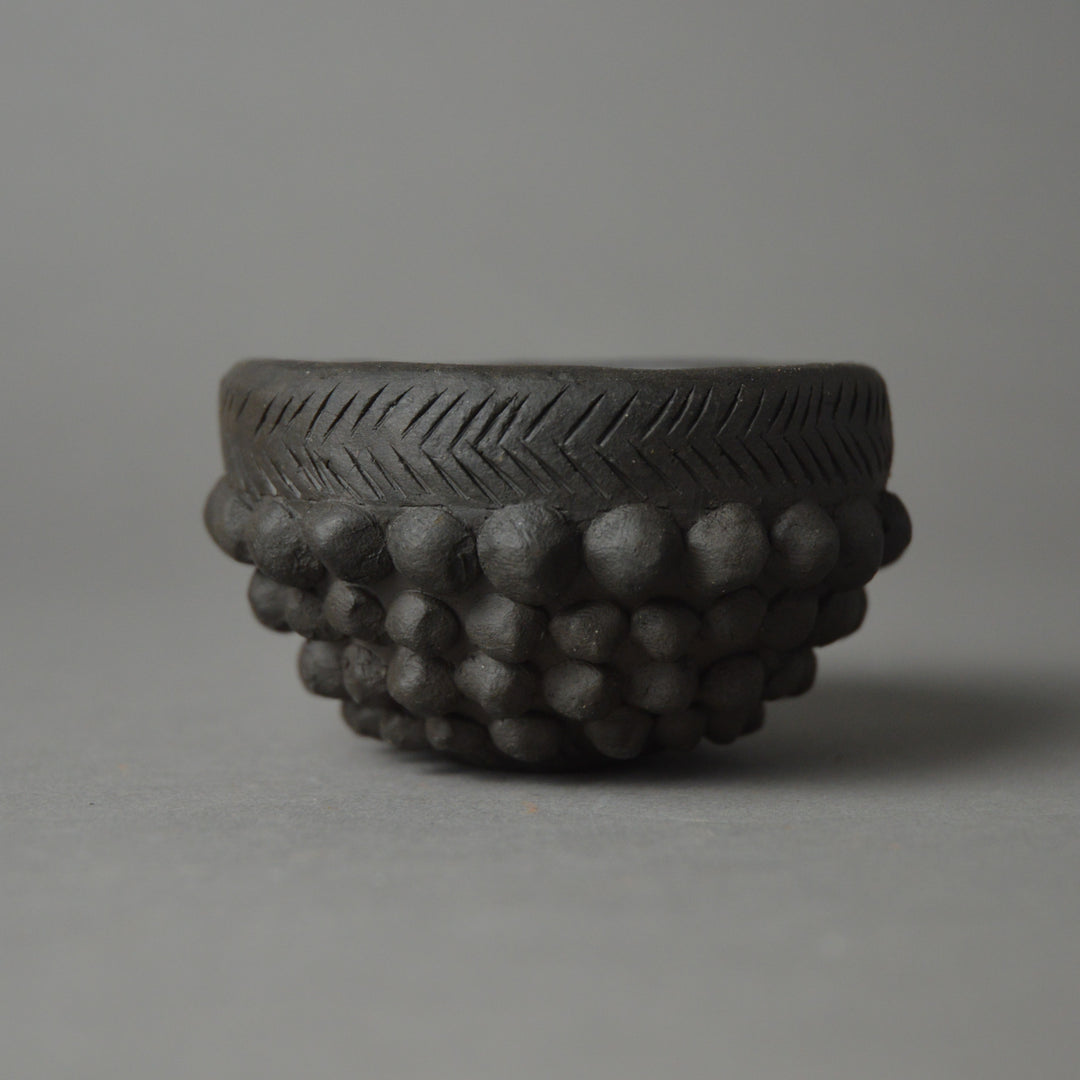 Bronze Age Grape Cup - Amesbury G19A
---
In stock, ready to ship

Inventory on the way
*Tax inclusions only apply to UK orders. Local taxes might be applied on receipt of international orders.
Details

We based this replica Grape cup on a find from a primary cremation bowl barrow at Amesbury.  It is a symbol of someone's love for another; it is an object that was carefully laid to rest alongside the remains of a person who meant a great deal to them. 
All grape cups are a labour of love as they take time and patience to individually apply each bead of clay, giving the maker time to reflect.  Perhaps the maker of this cup took that time to reflect upon the life of the person it was destined to accompany into the afterlife.  Sadly we shall never know.  

As well as the beads of clay decorating the outer surface of this cup, there is also impressed decoration in a chevron design around the rim of the cup and more impressed decoration on the base.  To create this decoration, we used the edge of a piece of flint to emulate the shape and texture of the design.  
Often referred to as an incense cup, the cup's true purpose is unknown, although several theories have been put forward over the years.  One of the more plausible suggestions is that the creators of this style of cup used it to carry a lump of smouldering coal from the home hearth to the ceremonial cremation site.
This use would explain the function of the beads that allow air to circulate between them and stop your hand from directly touching the pot's surface, which does get hot from the coal inside.  It would also explain why several of these styles of vessels were found in burial goods.
It also makes a good hand warmer; we have experimented with this.
But the truth is we will never know for sure.
Materials

Smoke fired Terracotta
Dimensions
Diameter 75 mm x Height 45 mm
Production
Completely hand-built from clays similar in character to those used by the original potters, this vessel has been fired in a wood fire to emulate the original's surface colouration.  It has finished with beeswax polish, a material also identified in residue analysis of original prehistoric pottery.  When there is evidence of ancient potters' tool use, I have replicated such tools using stone, wood, shell, bone, and antler based on original finds or information gained from marks on original artefacts.
Firing
We have fired this pot to emulate the ancient firing conditions.  The original pot was fired in an open wood fire, in close contact with the fuel, a process that leaves its mark on the clay as variations in the surface colour.  However, the low temperatures achieved in open firings also result in relatively weak pots, so this pot has been fired to a somewhat higher temperature to strengthen it, in a unique firing process that allows me to achieve an authentic appearance to the pot.
Health and Safety
This pot is a Museum Quality Replica made using the tools and techniques that potters would have used during the ancient era.  As this is an unglazed pot with a porous surface, it will absorb some of the flavours during the cooking process, adding to the taste of future dishes.  However, it does also mean that this pot does not meet modern Health and Safety standards; therefore, we do not advise that it be used for cooking.  When ancient cooks cooked in these pots, they relied on applying sufficient heat to the pot and contents to ensure that heat-killed all bacteria.  Heating to over 70°C for at least 10 minutes would have killed most disease-causing bacteria, and temperatures of 100°C would do even more.
Postage
We send all items using a second-class postal service; if you wish to have an item sent first-class, please contact me for a quote.  Many Thanks
SHIPPING
We ship our fabulous replicas worldwide.
Shipping costs are worked out during checkout. They are based on where you are and how heavy your parcel is.
All UK items are sent using a second-class postal service.
All International items are sent using an international tracked service. Your tracking number will be sent to you via email.
If you wish to have an item sent via another service or have not received your tracking number, please get in touch with us.
Many Thanks

RETURNS
If you aren't completely satisfied with your Potted History piece, please get in touch to organise a return. Please email us at: clare@rothburycreates.co.uk.
Then you can return it in an unused condition within 30 days, and we'll refund you for the item. We don't try to baffle you with nonsense terms and conditions. Including your order number with the returned package will speed things up. Please leave any packaging intact.
Our returns address is:
Potted History, Gregory Court, Rothbury, Northumberland, NE65 7SW