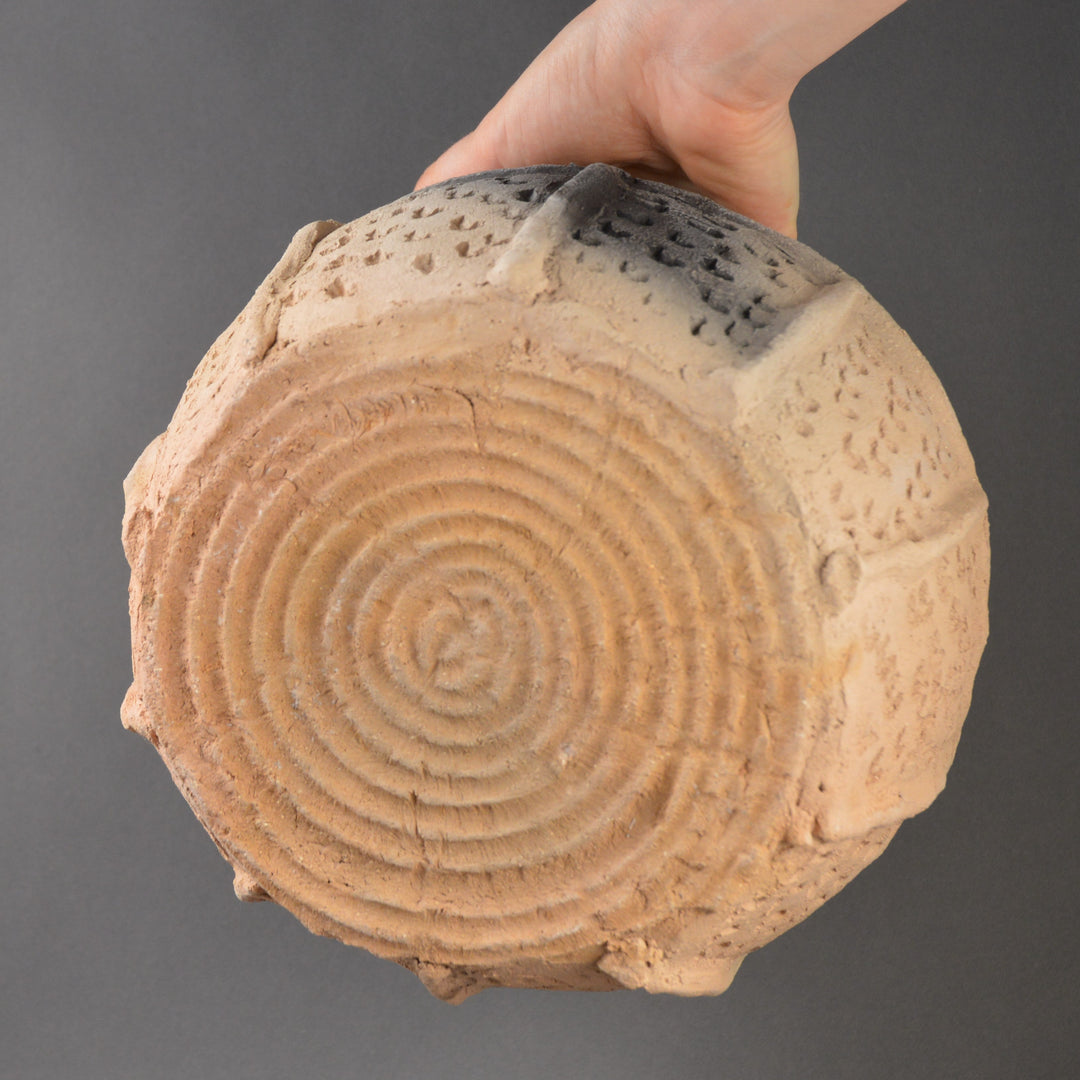 Durrington Wall, Grooved Ware
---
In stock, ready to ship

Inventory on the way
*Tax inclusions only apply to UK orders. Local taxes might be applied on receipt of international orders.
 Details
The hugely significant ancient site at Durrington Walls unearthed a large number of grooved ware sherd, some of which had been deposited within the ceremonial timber circles.  This replica grooved ware pot is based on one such sherd that was beautifully decorated with vertical ribs and bird bone impressions and might have been used during a midsummer or midwinter ritual.  
Recent research into the use of grooved ware pots on the site has discovered evidence of animal fats in the surface of the sherds, which suggests they were used to cook cattle and store pig fats and dairy.  The butchering of the cattle bones found suggests they were being cut up into small chunks to be used in stews that would have been cooked in these grooved ware vessels.  The pigs appear to have been roasted whole and the suggestion is that the rendered fat was collected and stored in grooved ware.  
Durrington Walls 
On the edge of the river Avon, within site of Stonehenge, lies the neolithic site of Durrington Walls, a place where it is believed people lived for part of the year to feast and celebrate.  The site was may have housed the people who built, and certainly used, Stonehenge. 
The settlement consists of a large ceremonial circle that was dug into the chalk bedrock and contained several shrines, as well as some houses.  On the edge of the circle sits a Woodhenge, which would have been a truly breath taking sight particularly during midwinter and midsummer when, like Stonehenge, it aligns with the rising or setting sun. 
This circle was surrounded by an as of yet unknown number of houses similar in design to those found at Skara Brae. It is estimated that this was a very large settlement with hundreds of small dwellings, the evidence for this are the high number of pottery sherds, animal bones and arrow heads found proving that consumption was intense.  This is confirmed by the discovery of a large midden that contained the bones of pigs and cattle which had clear signs of having been butchered and roasted.  
The midsummer and midwinter solstice alignment of Durrington Walls suggest a seasonal occupation.  This is back by by the lack of a grinding quern at the site and the intense speed at which the midden was filled with the animal bones during each period of use.   
Materials

Smoke fired Terracotta
Dimensions
Approx. 165 mm tall 230 mm diameter

Production
As with all my Museum Quality Replicas this pot has been made, as the original would have been,  entirely by hand from natural clay and using replicas of the types of tool that the Neolithic makers would have used.  In keeping with the original pot, the decoration has been applied using handmade bone  and antler tools
Health & Safety
This is a Museum Quality Replica and is not intended for use with food or drink, if you require replica pots for actual use with food of beverages, please ask before purchasing.
Firing
It has been fired to emulate the ancient firing conditions. The original pot would have been fired in an open wood fire, in close contact with the fuel, a process that leaves its mark on the clay as variations in the surface colour. However the very low temperatures achieved in open firings, also results in pots that are relatively weak, so this pot has been fired to a somewhat higher temperature to strengthen it, in a special firing process that allows me to achieve an authentic appearance to the pot. The exterior has been finished with beeswax to give a slight sheen.
Postage
All items are sent using a second class postal service, if you wish to have an item sent first class please contact my for a quote. Many Thanks
SHIPPING
We ship our fabulous replicas worldwide.
Shipping costs are worked out during checkout. They are based on where you are and how heavy your parcel is.
All UK items are sent using a second-class postal service.
All International items are sent using an international tracked service. Your tracking number will be sent to you via email.
If you wish to have an item sent via another service or have not received your tracking number, please get in touch with us.
Many Thanks

RETURNS
If you aren't completely satisfied with your Potted History piece, please get in touch to organise a return. Please email us at: clare@rothburycreates.co.uk.
Then you can return it in an unused condition within 30 days, and we'll refund you for the item. We don't try to baffle you with nonsense terms and conditions. Including your order number with the returned package will speed things up. Please leave any packaging intact.
Our returns address is:
Potted History, Gregory Court, Rothbury, Northumberland, NE65 7SW