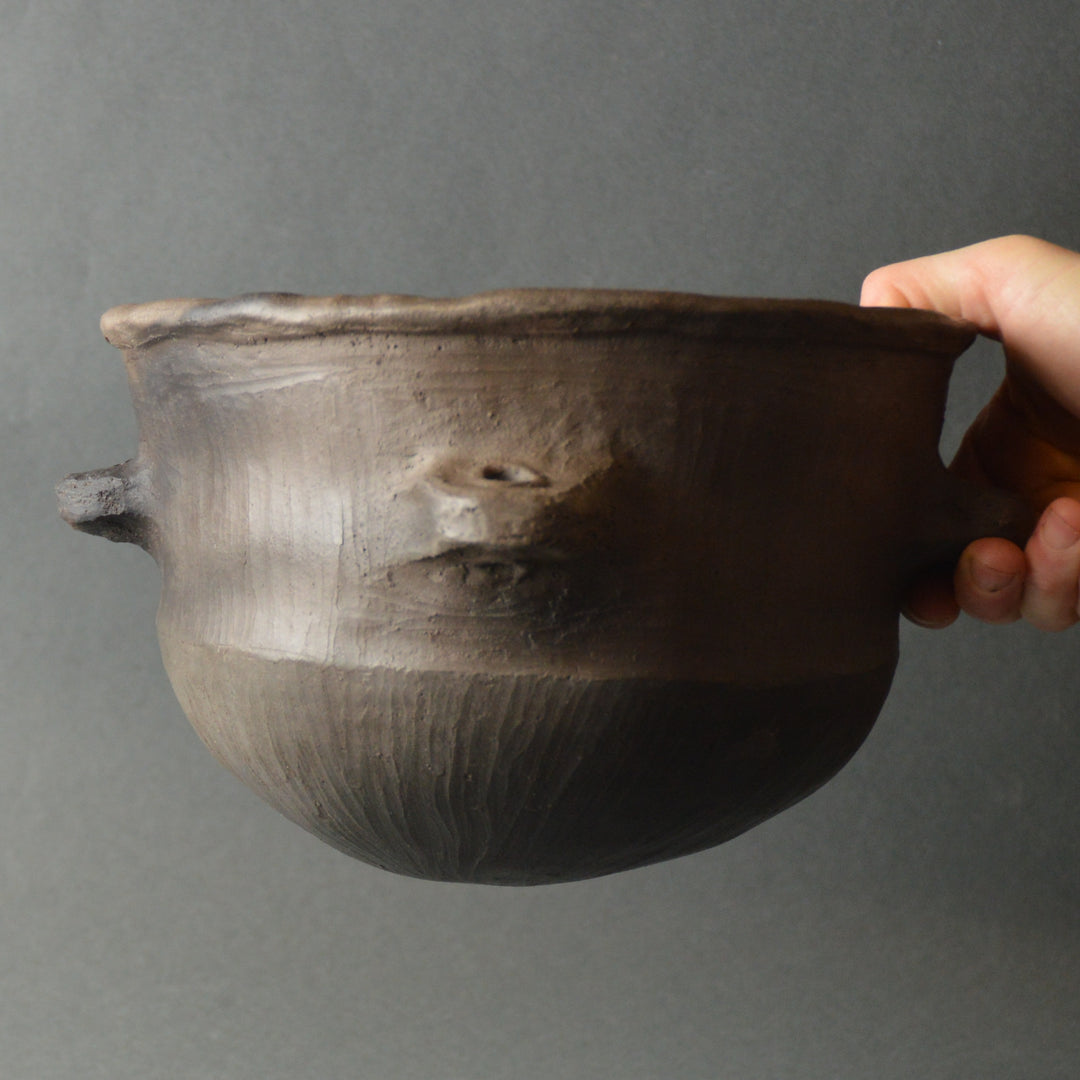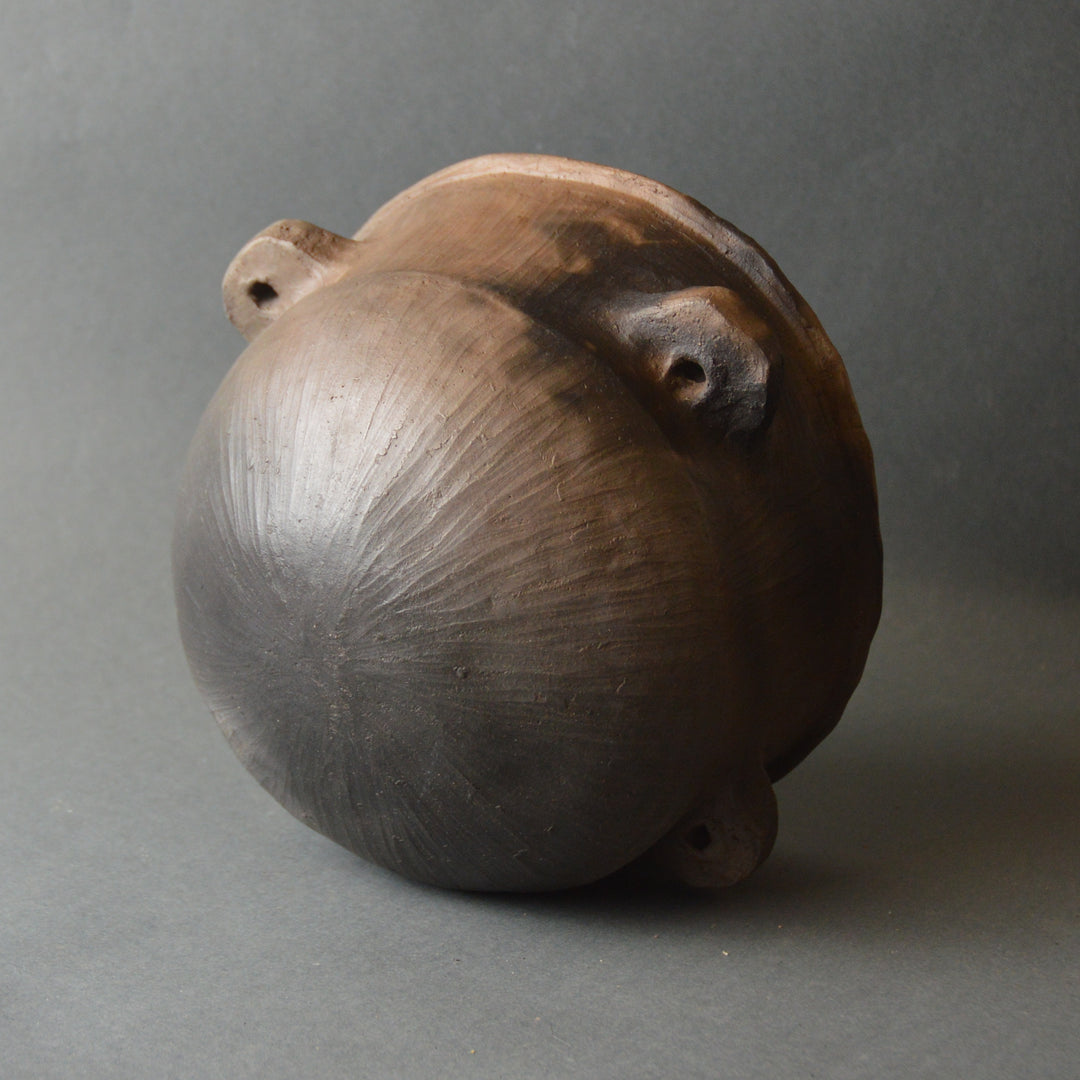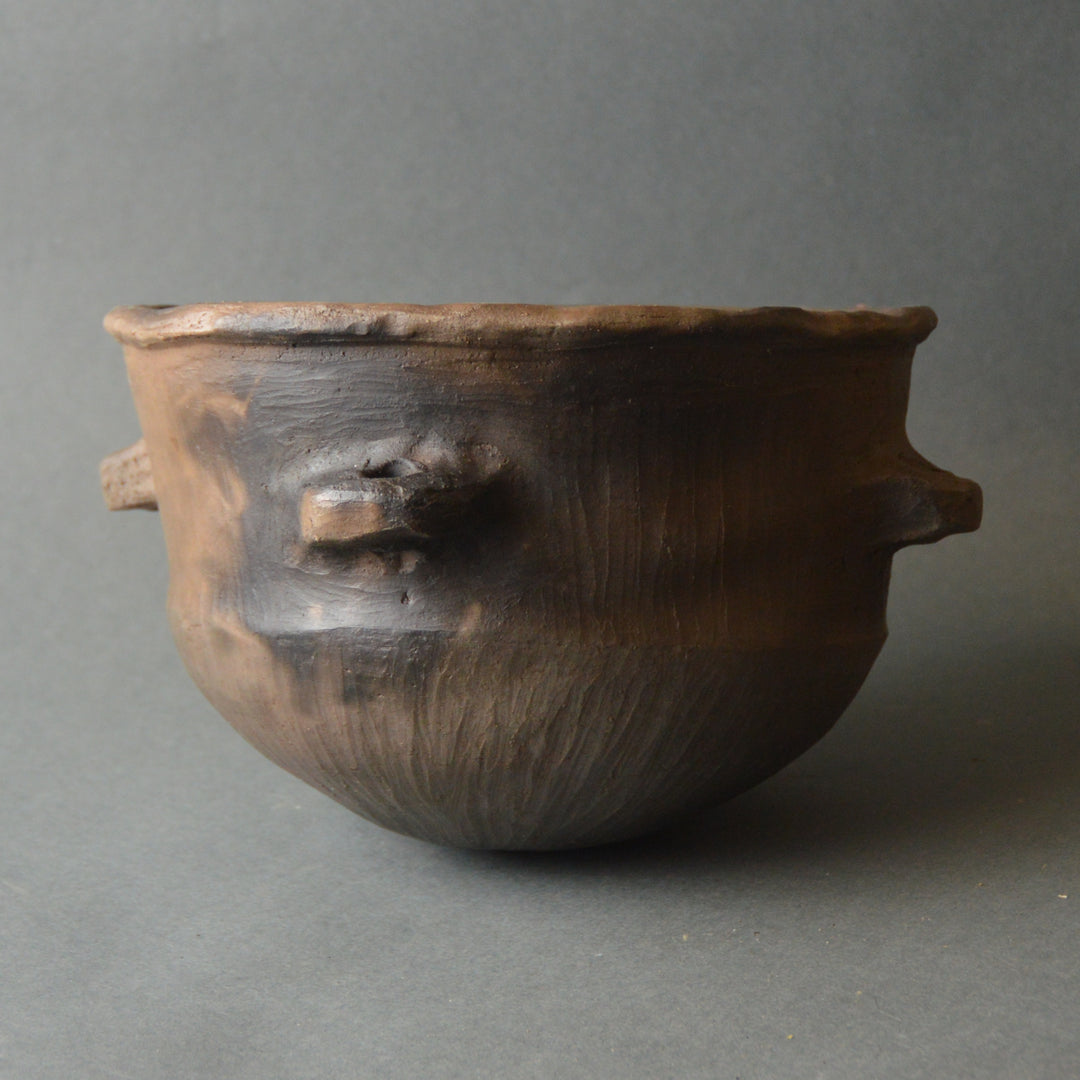 Hembury Bowl With Lug Handles
---
In stock, ready to ship

Inventory on the way
*Tax inclusions only apply to UK orders. Local taxes might be applied on receipt of international orders.
Details

The Neolithilc causewayed enclosure of Hembury shows evidence of many cooking pits that would have been used to prepared food for the growing community that had developed on this beautiful site.  Of course, on those pits they would have used a myriad of skilfully crafted pottery vessels to cook and prepare the food that would have nourished this early populace. 
This ancient East Devon landmark was lost from view for many years beneath an excess of overgrowth, but much work has gone into preserving this special site in recent years.  The site was so great a home that it also holds evidence of an Iron Age settlement and is now said, by some, to be the finest prehistoric hillfort in Devon.  What can not be denied is that it has provided us with an abundance of information about the peoples who inhabited it.   With some amazing treasures having been revealed that include pottery, quern stones, flints and axes.  It really is a place of great archaeological value. 
Likely to have been chosen for its defensive positions, it will have provided the community with an invaluable sense of security as it is protected on three sides by steep slopes.  Whilst also providing a stunning view over the Otter Valley, which must have been a spectacular backdrop for the daily activities of this Neolithic community.
One such activity will have been cooking on the fire pits whilst taking in the stunning views. This bowl with lugs is based on a sherd from this important historic site. 
 Materials
Smoke fired Terracotta
Dimensions
Approx. 140 mm tall 200 mm diameter
 Production
As with all my Museum Quality Replicas this pot has been made, as the original would have been,  entirely by hand from natural clay and using replicas of the types of tool that the Neolithic makers would have used.  In keeping with the original pot, the decoration has been applied using a bone.
 Firing
It has been fired to emulate the ancient firing conditions. The original pot would have been fired in an open wood fire, in close contact with the fuel, a process that leaves its mark on the clay as variations in the surface colour. However the very low temperatures achieved in open firings, also results in pots that are relatively weak, so this pot has been fired to a somewhat higher temperature to strengthen it, in a special firing process that allows me to achieve an authentic appearance to the pot. As each pot varies you many not receive the exact bowl in the image, but you can be sure that due to the variations caused by the firing process your pot will be a one of a kind.
Health and Safety
This is a Museum Quality Replica made using the tools and techniques that would have been used during the Neolithic era.  As this is an unglazed pot with a porous surface it will absorb some of the flavours during the cooking process, which does add to the flavour of future dishes. However, it does also mean that this pot does not meet modern Health and Safety standards and therefore we do not advise that it is used for cooking with.  When Neolithic cooks cooked in these pots they would rely on applying sufficient heat to the pot and contents to ensure that all bacteria was killed. Heating to over 70°C for at least 10 minutes would have killed most disease causing bacteria and temperatures of 100°C would do even more.
 Postage
All items are sent using a second class postal service, if you wish to have an item sent first class please contact my for a quote. Many Thanks
SHIPPING
We ship our fabulous replicas worldwide.
Shipping costs are worked out during checkout. They are based on where you are and how heavy your parcel is.
All UK items are sent using a second-class postal service.
All International items are sent using an international tracked service. Your tracking number will be sent to you via email.
If you wish to have an item sent via another service or have not received your tracking number, please get in touch with us.
Many Thanks

RETURNS
If you aren't completely satisfied with your Potted History piece, please get in touch to organise a return. Please email us at: clare@rothburycreates.co.uk.
Then you can return it in an unused condition within 30 days, and we'll refund you for the item. We don't try to baffle you with nonsense terms and conditions. Including your order number with the returned package will speed things up. Please leave any packaging intact.
Our returns address is:
Potted History, Gregory Court, Rothbury, Northumberland, NE65 7SW