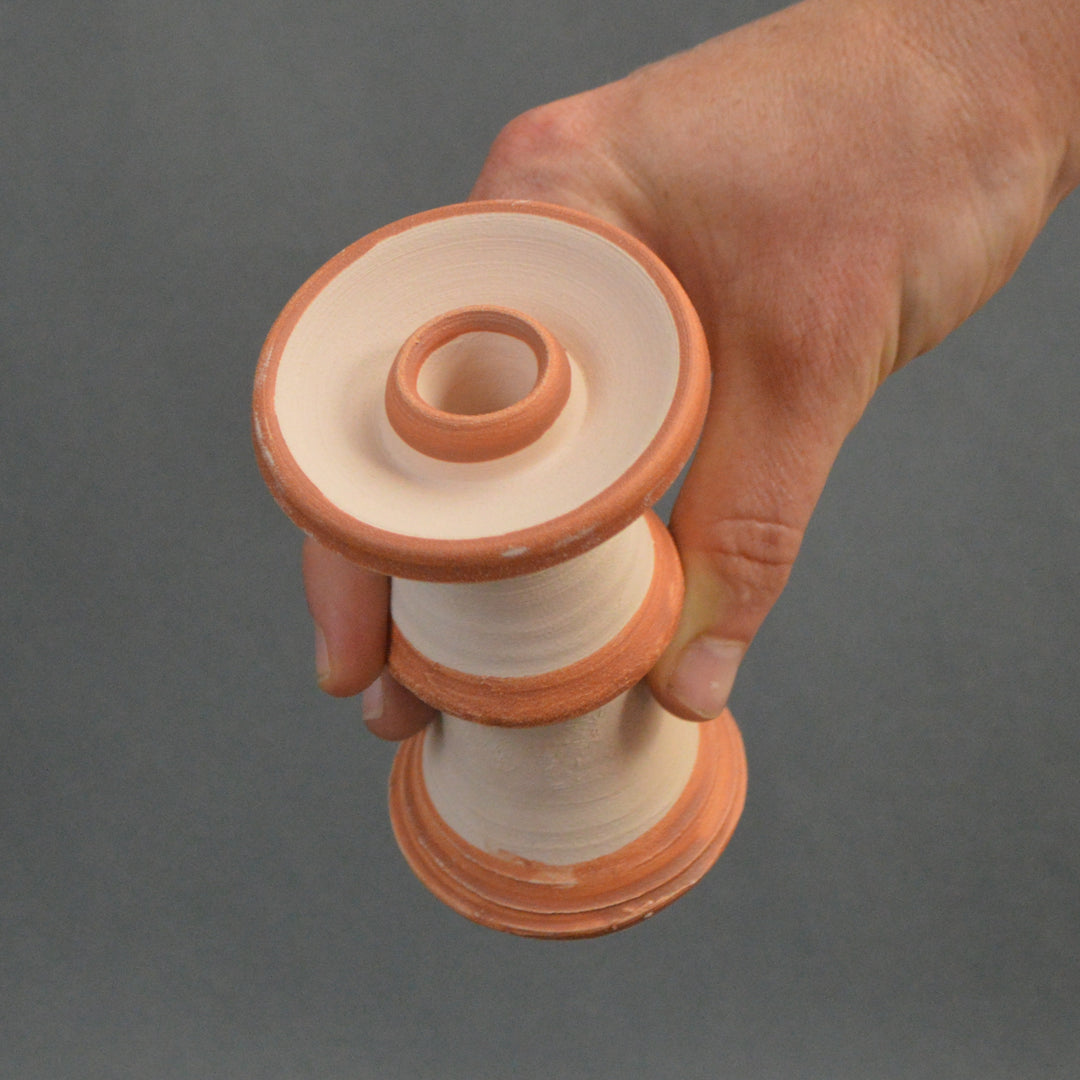 New Forest Candle Stick, Roman
---
In stock, ready to ship

Inventory on the way
*Tax inclusions only apply to UK orders. Local taxes might be applied on receipt of international orders.
Details
We based these decorative candlesticks on finds from the Roman kilns discovered in the New Forest, Hampshire, a site that was a prolific centre of pottery production in the 3rd century AD.
This superb site was ideal for pottery production with a ready supply of good quality clay, sufficient timber for fuel and access to running water. This abundance of essential materials resulted in potters developing a thriving pottery industry spread over a wide area and consisted of many kilns. These kilns were often found in clusters so the potters could maximise their production capacity. It also suggests Roman potters used the sites for long periods with new kilns built when an old kiln became damaged from use.

The site has been a rich source of evidence for fine Romao-British pottery, with archaeologists having unearthed many decorative and fine vessels. However, it was not just fine tableware such as these candlesticks that were being produced, and it is evident that coarser kitchenware was also being manufactured at this site. It is a site of great importance, and these candlesticks are just one of the many treasures that have been unearthed.

Production
As with all our Museum Quality Replicas, we have made this pot, as the original would have been, entirely by hand from natural clay and using replicas of the types of tools that the ancient makers would have used. As each pot varies, you may not receive the vessel in the image, but you can be sure that your pot will be one of a kind due to the variations caused by the firing process. 
 Material
 White earthenware, red slip decoration 
Dimensions
Approx 125 mm high, 60 mm diameter
Health and Safety
Before attempting to use your candlestick, you must read the safety instructions. 
ONLY use your candlestick for holding and burning wax candles.
You may need to trim the end of your candle to ensure that it securely fits within the aperture of the candlestick. DO NOT light the candle if it is unstable within the aperture. Trim and fit the candle to ensure a stable and secure fit within the aperture
Place the candlestick on a stable and non-flammable surface, far from any sources of heat. 
Always snuff out the flame, never blow it out. Never use water to extinguish the flame. Extinguish the candle by snuffing it out with a metal spoon. 
DO NOT attempt to move or pick up your candlestick whilst the candle is lit.
Ensure that there are no flammable materials above or near the candle and candlestick. 
DO NOT leave your candle unattended whilst it is lit.
This candlestick is not a toy; KEEP OUT OF REACH OF CHILDREN.
Use of this candlestick is at your own risk; we cannot take responsibility for accidents or injury caused by the use of candles.
Postage
All items are sent using a second class postal service; if you wish to have an item sent first class, don't hesitate to contact me for a quote. Many Thanks
SHIPPING
We ship our fabulous replicas worldwide.
Shipping costs are worked out during checkout. They are based on where you are and how heavy your parcel is.
All UK items are sent using a second-class postal service.
All International items are sent using an international tracked service. Your tracking number will be sent to you via email.
If you wish to have an item sent via another service or have not received your tracking number, please get in touch with us.
Many Thanks

RETURNS
If you aren't completely satisfied with your Potted History piece, please get in touch to organise a return. Please email us at: clare@rothburycreates.co.uk.
Then you can return it in an unused condition within 30 days, and we'll refund you for the item. We don't try to baffle you with nonsense terms and conditions. Including your order number with the returned package will speed things up. Please leave any packaging intact.
Our returns address is:
Potted History, Gregory Court, Rothbury, Northumberland, NE65 7SW