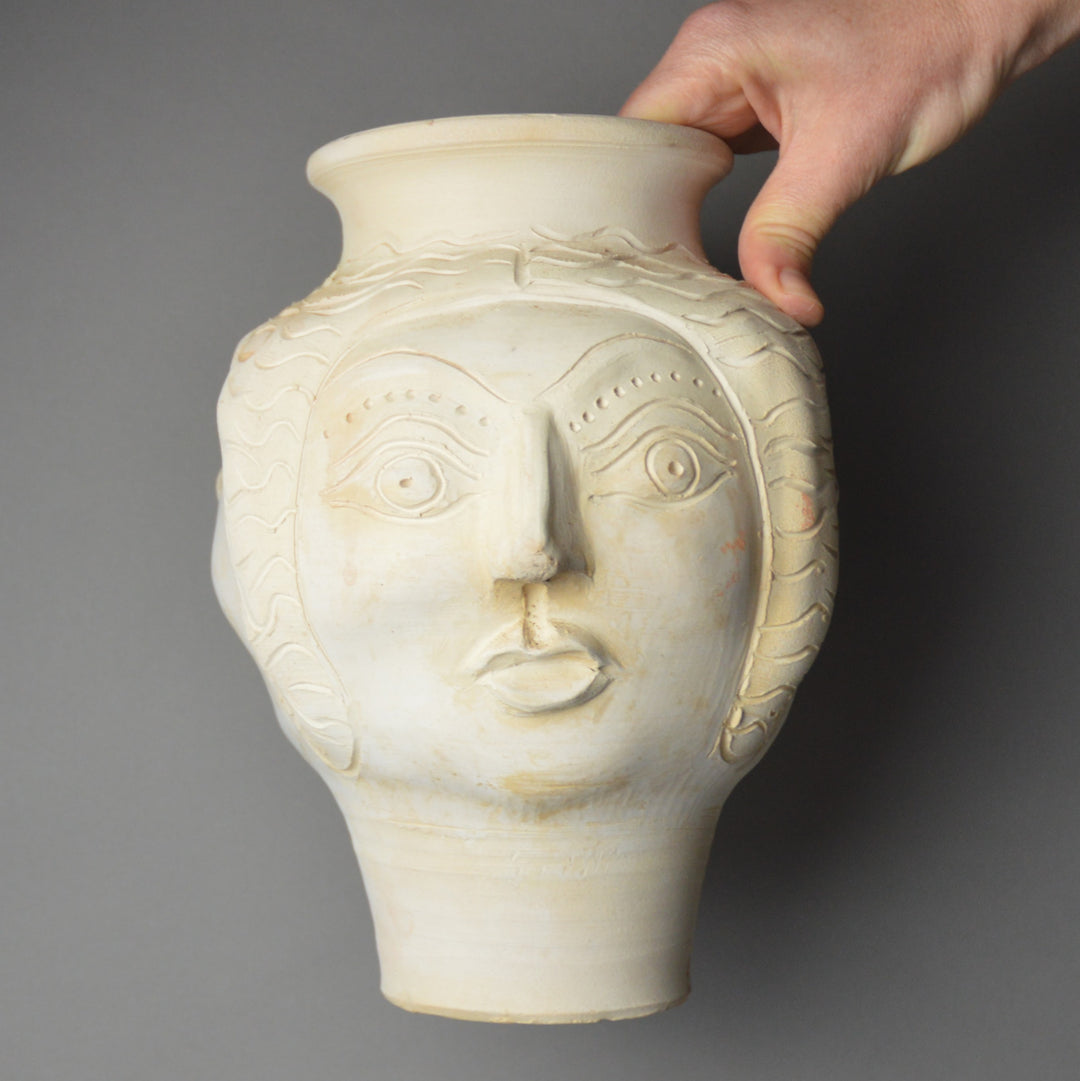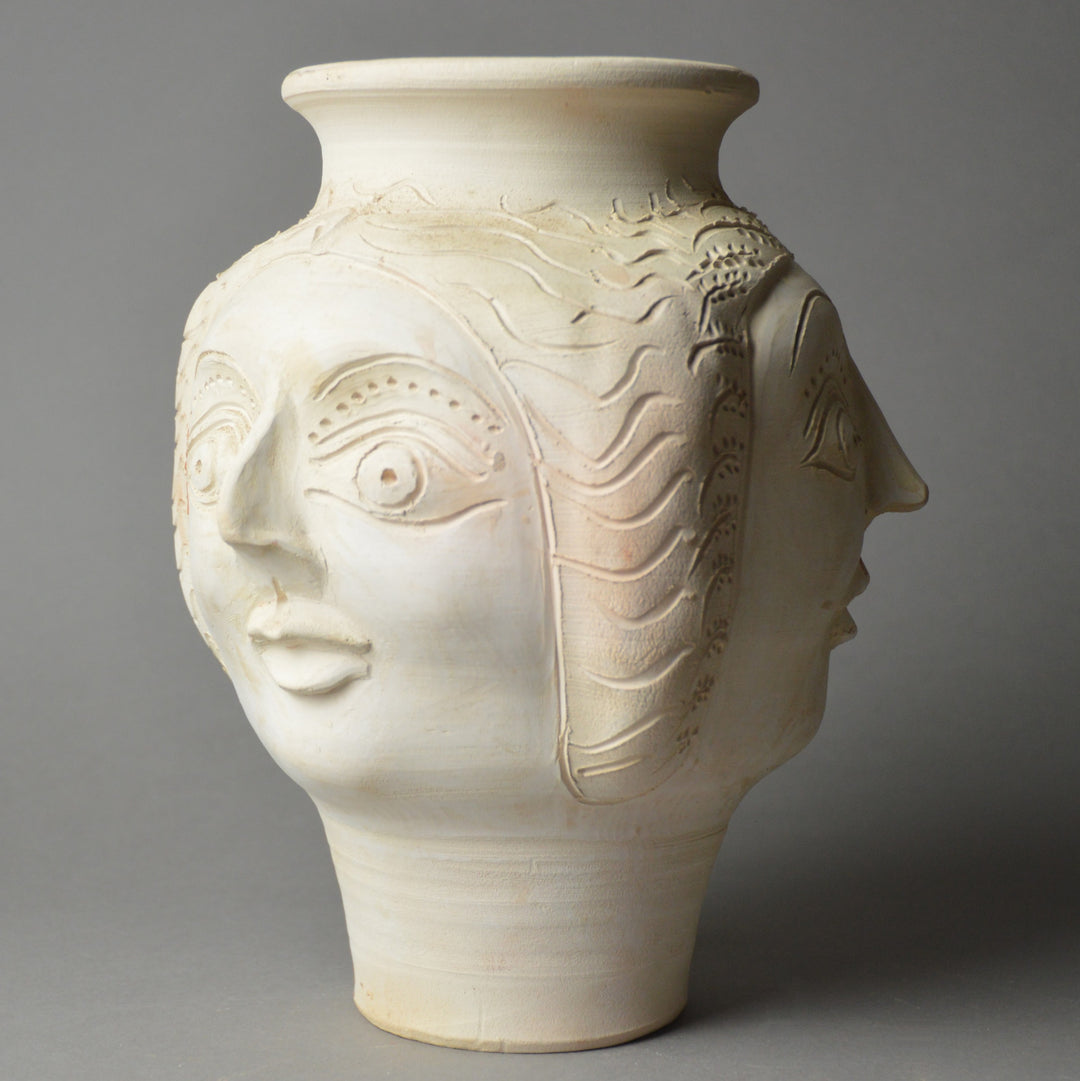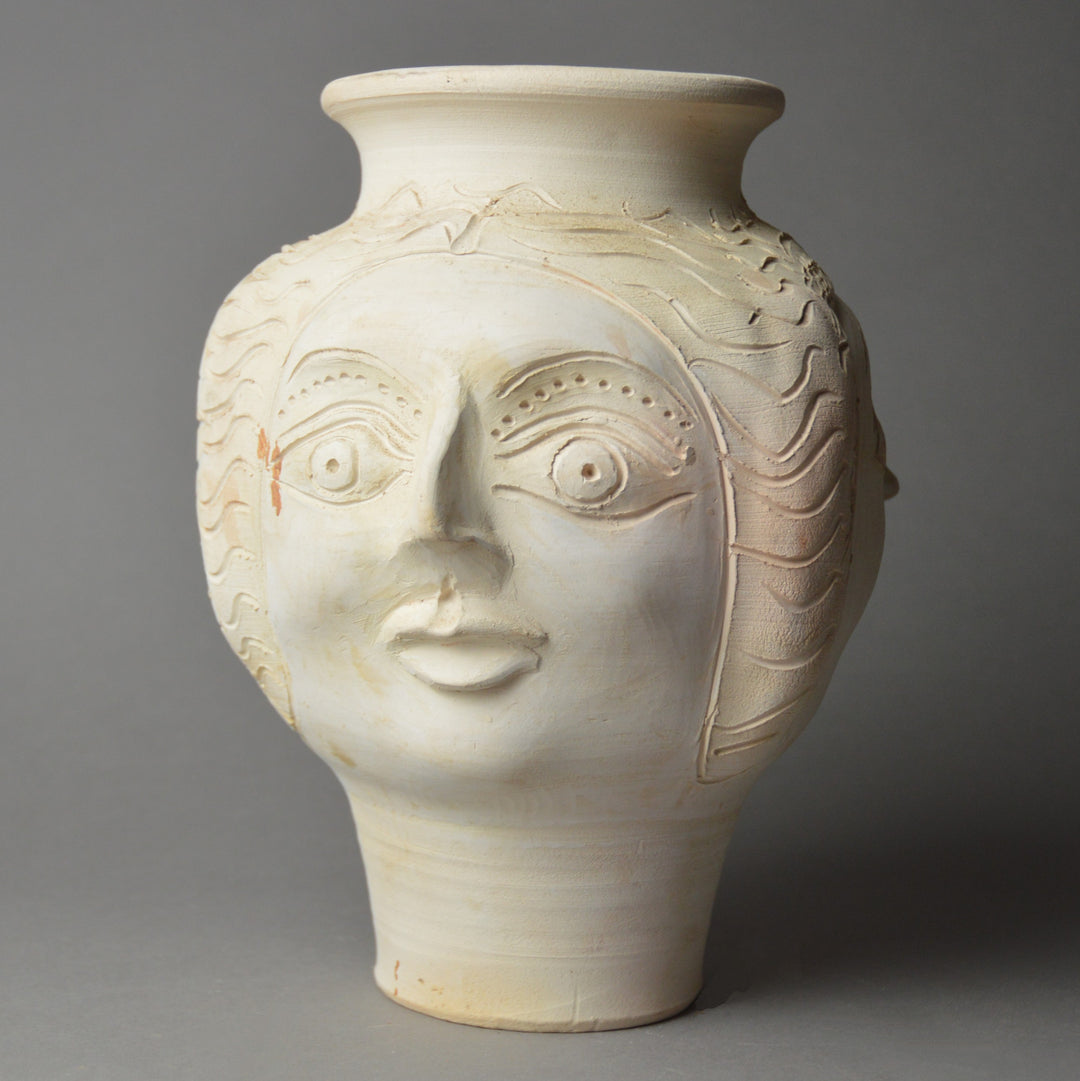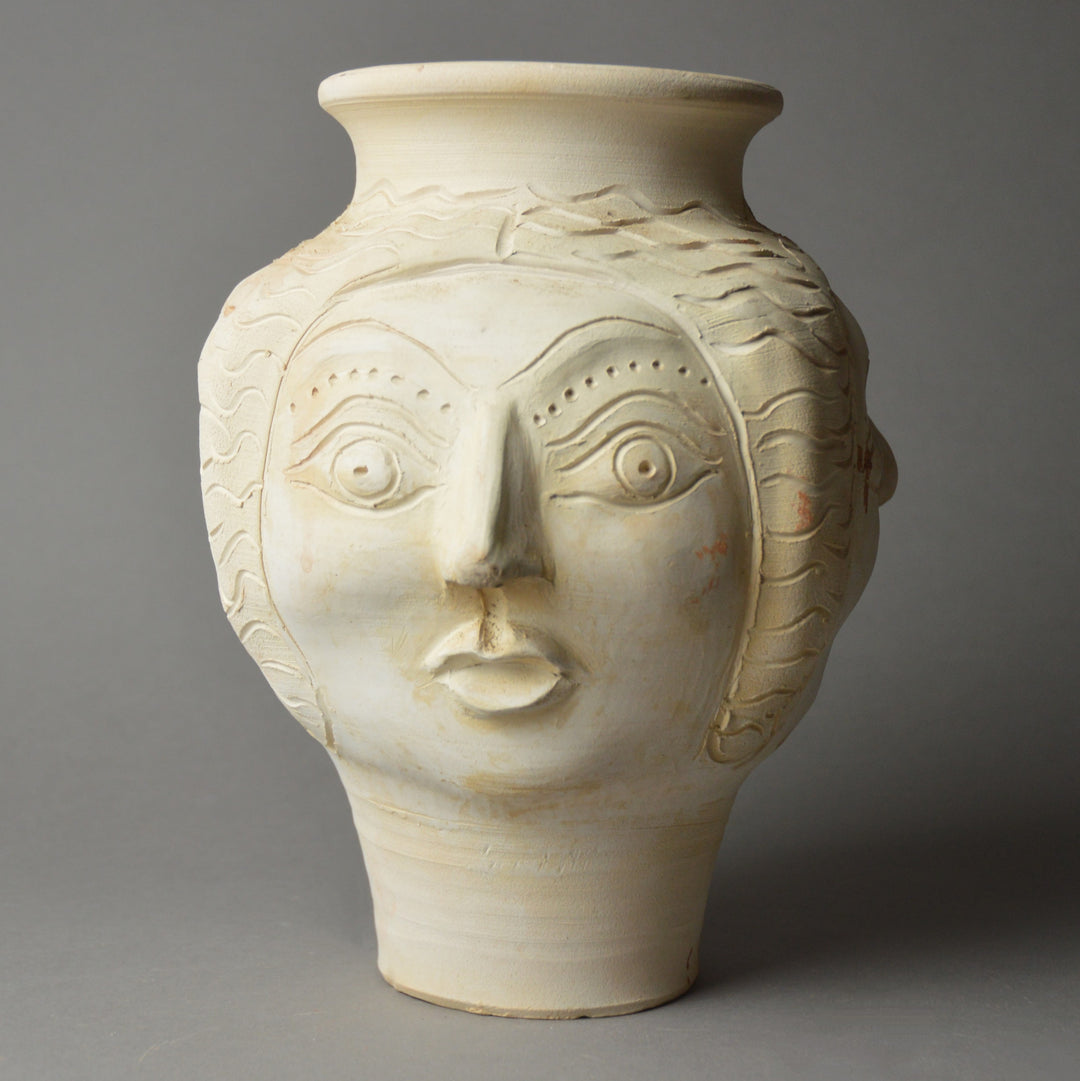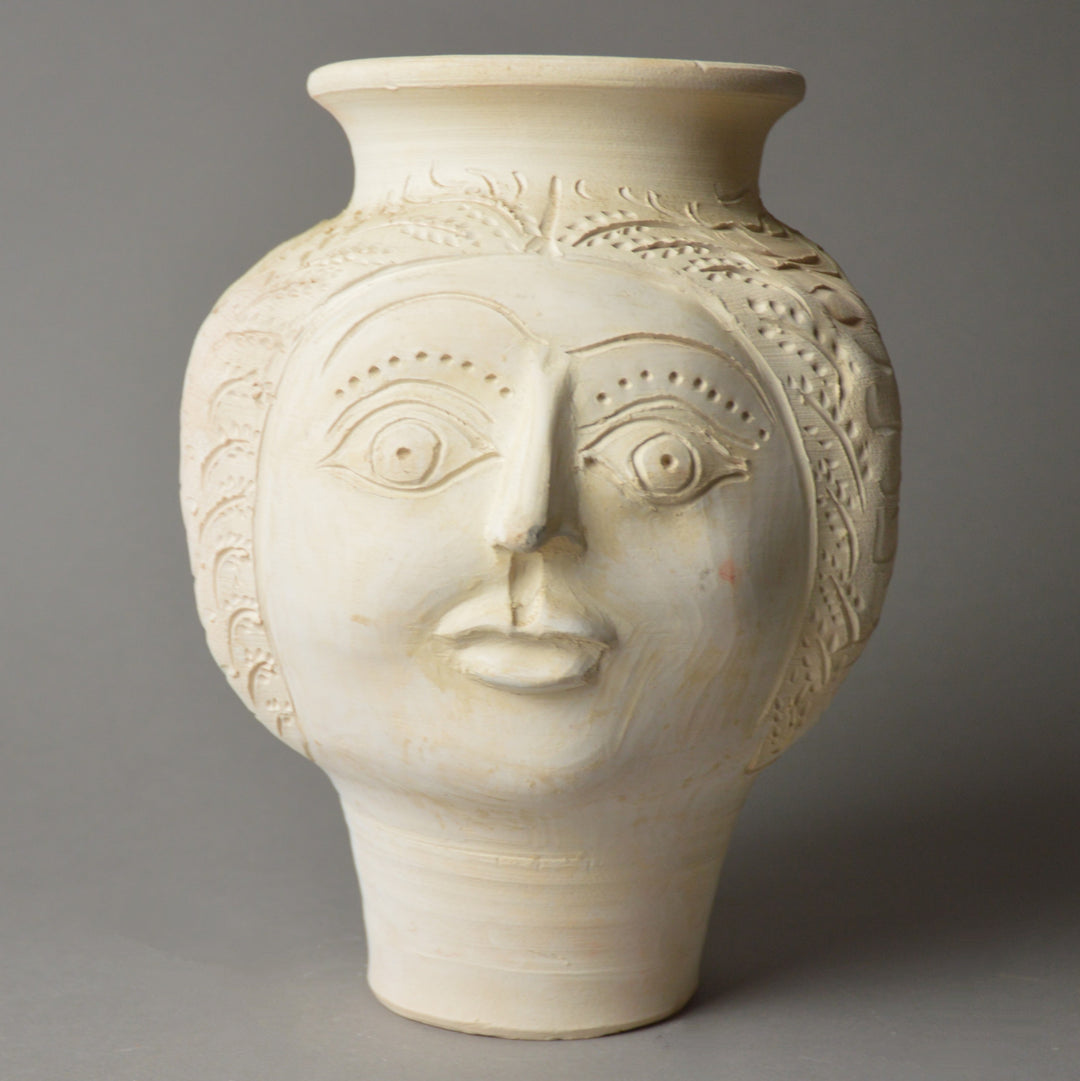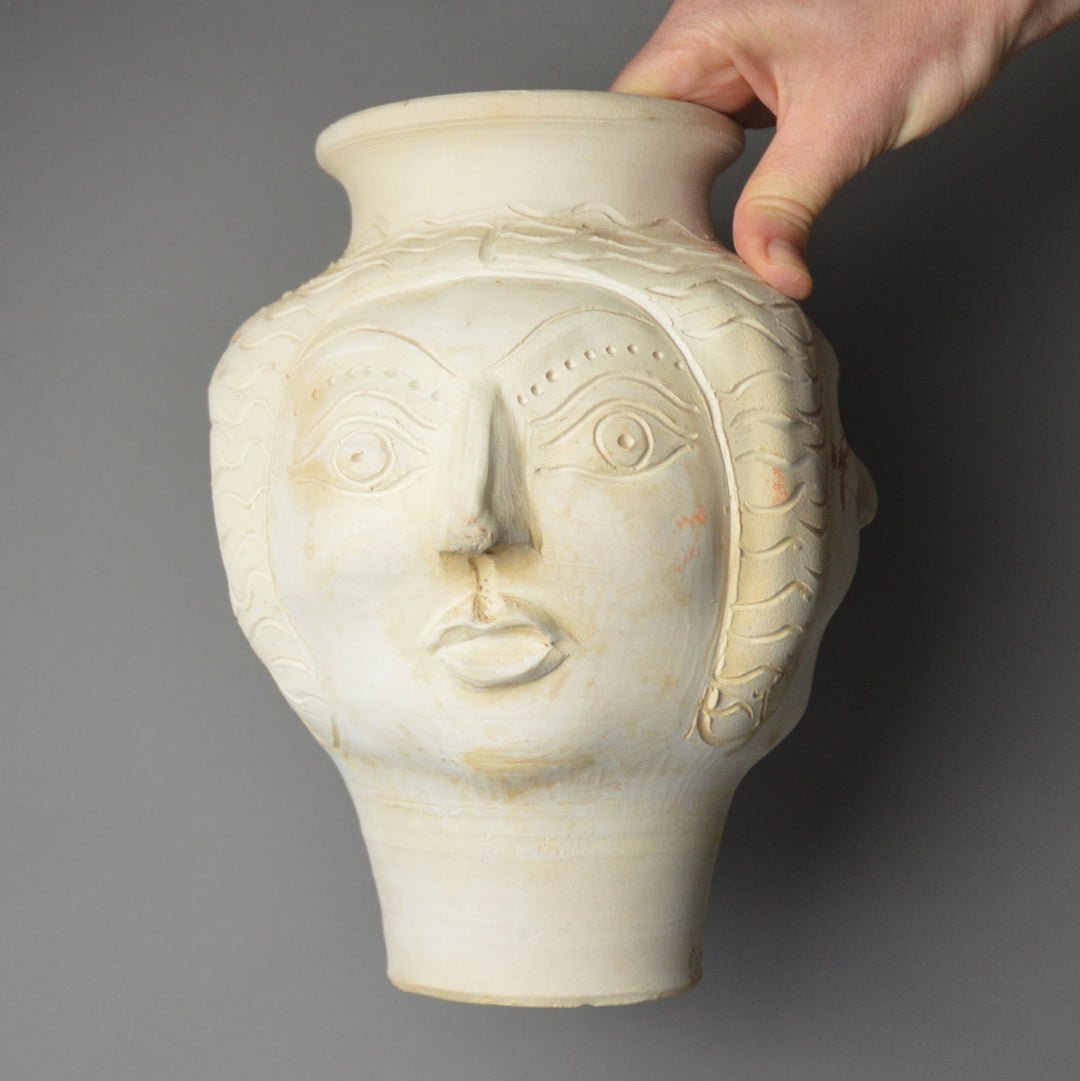 Vindolanda Three-Faced Head Pot
---
Low stock - 1 item left

Inventory on the way
*Tax inclusions only apply to UK orders. Local taxes might be applied on receipt of international orders.
Details
Seeing an ancient face staring back at you from a museum display is a real thrill; it is one of the main reasons we adore replicating this sought-after style of Roman pottery. Head pots were widely used throughout Roman Britain and are some of the most striking ceramic items produced during Roman rule, and seem to have been a speciality of Romano-British potters.

The almost caricature-like features of these pots were individually modelled onto beautifully wheel-thrown jars. Hand modelling was a relatively unusual method of working for the Romans, who often preferred the quicker convenience of mould decoration.
Believed to have been introduced to Britain by the Roman army, many head pots were discovered in the Colchester area, where there was likely a prolific production site.
Today you can see some truly superb examples of head pots on display in Colchester Museum, and we have used these rich examples to inspire this replica. However, they are not limited to Colchester, and a significant number of head potsherds were found along Hadrian's wall.
Their function and significance are, as of yet, not fully understood. Many, but by no means all, head pots have smith tools on them, suggesting a link to the God Vulcan. There have also been a number of these pots found in burial settings leading some to believe that this was their main usage. However, most have been found in settlement sites, so they were more likely to be used prominently in a domestic setting, perhaps for food storage.
Vindolanda Race to £100K: Realising the potential of pottery.
 We fired this item in the replica Roman kiln at Vindolanda Roman Fort, and part of the proceeds from its sale will be going to the Vindolanda, Realising the potential of pottery appeal. 
 Archaeologically, pottery is a treasure trove of information providing insight into many aspects of ancient life. Through research into pottery sherds, archaeologists can accurately date sites, make observations about what people were eating through the analysis of food residue, and better understand trade routes, which can help inform understanding of economy and consumption.  
Additionally, pottery provides a window into customs and social practices giving us a fuller picture of the people who made, bought and used these objects. And because of the hands-on nature of pottery production, it is common to find evidence of the makers preserved in the surface of the clay, moments in time held in ceramic and visible to us thousands of years later. Pottery truly brings the past to life, and for that reason, we are supporting the Vindolanda Race to £100K: Realising the Potential of Pottery. With every purchase made from the Vindolanda Appeal Collection, we will be donating a portion of the proceeds to the fundraiser, allowing you to help whilst also getting your hands on a museum-quality Roman replica that was fired in a replica Roman kiln at Vindolanda Roman Fort. 
Materials
Earthenware, terracotta
Dimensions
Approx. 230 mm tall, 180 mm diameter
Production
This replica Roman pot has been hand-made in Northumberland by Potted History, inspired by original artefacts. It has been wood-fired in an authentic replica of a Roman Pottery Kiln at Vindolanda Museum to a temperature of between 800°C & 1000°C, using the same techniques the original potters would have employed nearly two thousand years ago. This process often results in variations of the surface colour and texture. When ordering, you may not get the exact vessel photographed, and the colouring may vary slightly.  
Health and Safety
This is a Museum Quality Replica made using the tools and techniques that would have been used during the Roman era. This is an unglazed pot with a porous surface. It will absorb some of the flavours during the cooking process, adding to the flavour of future dishes. However, it also means that this pot does not meet modern Health and Safety standards, so we do not advise using it for cooking. When the Romans cooked in these pots, they applied sufficient heat to the pot and contents to ensure that all bacteria were killed. Heating to over 70°C for at least 10 minutes would have killed most disease-causing bacteria, and temperatures of 100°C would do even more.
Postage
All items are sent using a second-class postal service. If you wish to have an item sent first class, please contact us for a quote—many thanks.
SHIPPING
We ship our fabulous replicas worldwide.
Shipping costs are worked out during checkout. They are based on where you are and how heavy your parcel is.
All UK items are sent using a second-class postal service.
All International items are sent using an international tracked service. Your tracking number will be sent to you via email.
If you wish to have an item sent via another service or have not received your tracking number, please get in touch with us.
Many Thanks

RETURNS
If you aren't completely satisfied with your Potted History piece, please get in touch to organise a return. Please email us at: clare@rothburycreates.co.uk.
Then you can return it in an unused condition within 30 days, and we'll refund you for the item. We don't try to baffle you with nonsense terms and conditions. Including your order number with the returned package will speed things up. Please leave any packaging intact.
Our returns address is:
Potted History, Gregory Court, Rothbury, Northumberland, NE65 7SW